Thorens TD 124 with SCHOPPER TA 12 Tonarm
Many years ago we obtained various 10 and 12 inch tonearm prototypes from a former product development engineer at Thorens' legendary St. Croix facilities in Switzeland. These arms, however were never produced by Thorens – they only exist as prototypes.
Five years ago we decided to produce a limited tonearm series based on these prototypes, incorporating modifications and improvements to the original design, which were exclusively based on the original Thorens tonearm BTD 12s.
All parts are manufactured by our long-time engineering partners in Switzerland according to our exacting specifications. The design is based on the original 1960's prototypes and is a perfect optimal (and mechanical) match for the Thorens TD 124.
SCHOPPER TONEARM TA 10:
The 10" armwand is made from 1 millimeter thickness chrom-vanadium. The dedicated EJA-Socket accepts SME/Ortofon - type headshells and cartridges. The anodized, black bearing housing and tonearm base are milled from solid aluminum. The horizontal tonearm bearing was especially developed for us in order to optimize frictionless slow-motion movement.
The internal wiring is Thorens NOS – we found a supply of perfectly stored shielded cables in a former Thorens storage facility. The Thorens tonearm wire also remains superior to current production.
Our anti-skate mechanism can be adjusted from 1-5 grams and allows the use of cartridges weighing up to 35 grams.
The mechanically damped arm lift will far outlive today's current silicone-damped units.
The arm is supplied mounted on an armboard made from material similar to bakelite. Three rubber washers decouple the arm from the chassis, absorbing unwanted vibration.
Our TA 10 is a high-mass heavy arm designed to optimize the use of cartridges like the Ortofon SPU series.
Tonarm SCHOPPER TA 12:
The 12" differs from the 10" model in having a larger counterweight and a differently shaped armboard.
Feedback from clients using the SCHOPPER tonearms has been enthusiastically positive. Our clients confirm what we're hearing – the arm is fast musical and dynamic, capable of extracting the ultimate detail from the grooves in the quietest passages.
The arm is supplied mounted on the decoupled armboard, with lift unit arm rest, dedicated hardwired tonearm cable with professional-quality Neutrik plugs, and dedicated armboard screws and decoupling washers.
We supply the arm with overhang and VTA already set for Ortofon SPU series cartridges – installing and changing SPUs requires no additional adjustment of these parameters –you only have to mount the headshell in the arm and tighten the collar.
Two screws on the bottom of the tonearm socket allow for easy, precise azimuth adjustment.
Mounting the arm/armboard to the chassis is a simple operation with the three supplied screws. It's plug and play!
All parameters can be simply and easily adjusted.
Price:
10 inch model, CHF 2990--
12 inch model, CHF 3990.—
For further questions please contact us by e-mail: This email address is being protected from spambots. You need JavaScript enabled to view it.
Thorens TD 124 with TA 12 Tonearm
Thorens TD 124 with TA 10 Tonearm
TA 12 Tonearm on decoupled SCHOPPER 12 inch armboard
TA 10 Tonearm on decouppled SCHOPPER 10 inch armboard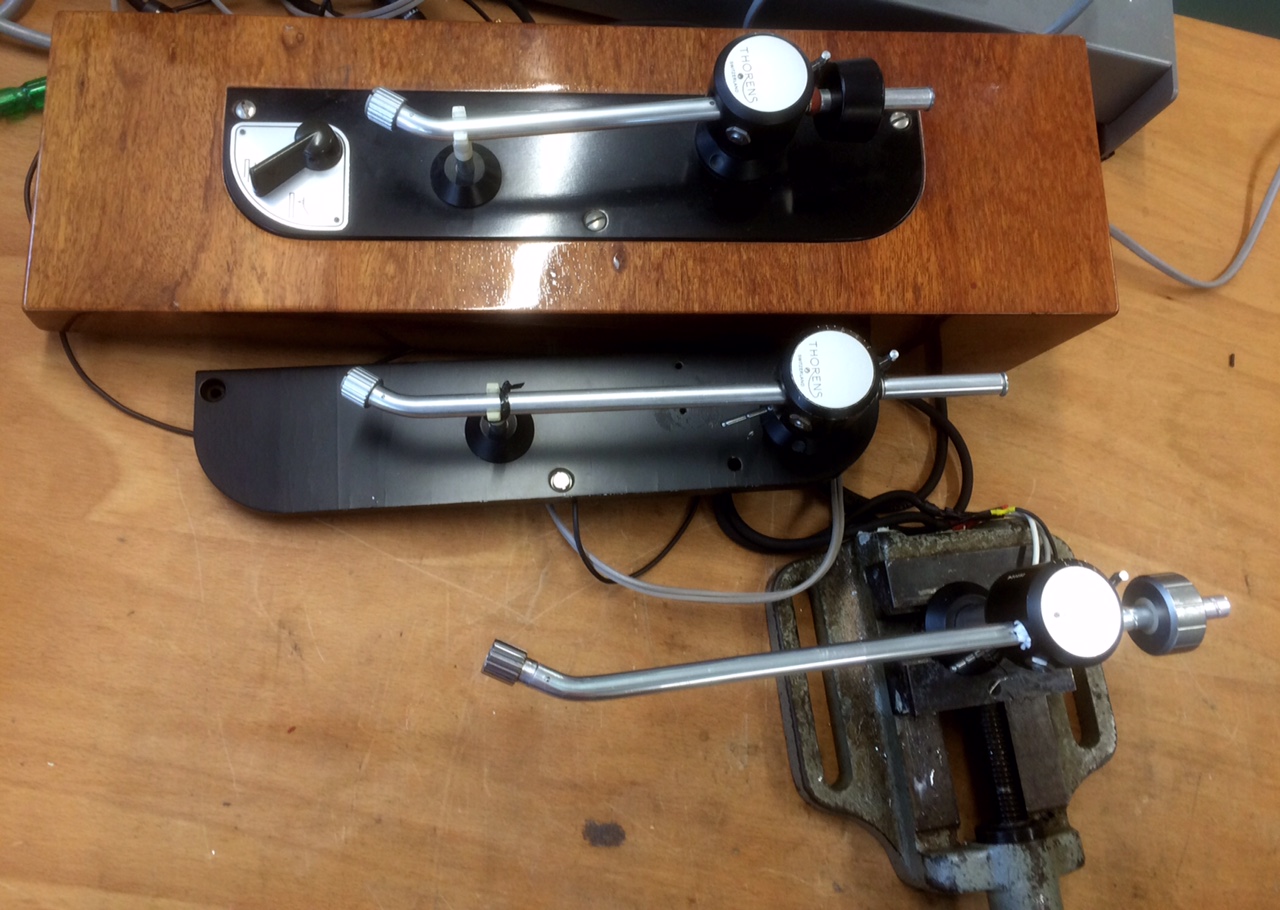 Original Thorens Prototypes
Antiskating Facility
Housing
Tonearm Lift
Cables
EJA Socket
Bearings
Production